uniquely MISSION District
WHERE MEXICO MEETS THE MISSION DISTRICT
It's a delightful taste of Mexico – located in one of San Francisco's most happening and truly iconic areas – the legendary Mission District. We invite you to come celebrate our traditions us.
LET'S FLY A KITE!
In Spanish, Papalote means kite. For our restaurant, we wanted to recreate the feeling we got when we found ourselves in the middle of a celebration in Chapultepec, on those fine Sunday afternoons with friends and family as kids.
A place where there is not a worry in the world, people laughing, the smell of food coming from all directions, and sometimes, if you looked up, you could even see a papalote or two, flying way way way up there in the sky.
Since we began, we've created a legacy to serve our community, offering quality, authenticity, and consistency.
our commitment
Since 1999 Papalote has been serving our community, offering our neighbors quality, authenticity, and consistency.
We prepare and present authentic Mission District fare, and we pay meticulous attention to every ingredient that goes into our dishes. Our grilled meats are grilled and served immediately, never prepared ahead of time, or refrigerated and then reconstituted.
From grill to tortilla, whether you're having a burrito, a taco, or a quesadilla, you'll thoroughly enjoy the unique flavor of freshly grilled vegetables and meats, as well as delicately sautéed seafood offerings and succulent vegan and vegetarian options.
It's a pleasure to serve you and continue the culinary tradition my Great-Aunt Celia started here in San Francisco in the mid 60's. Come for the freshness, stay for the salsa. We are so glad you're here.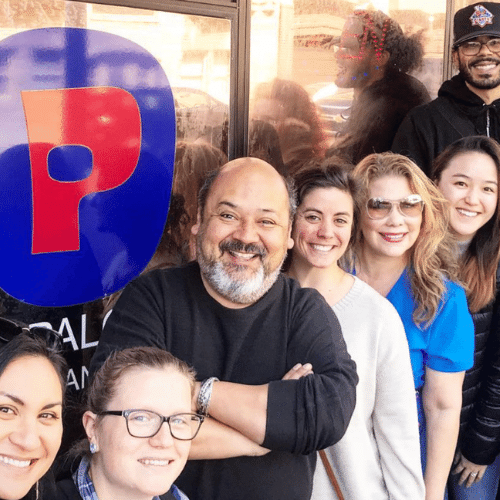 MAY WE SERVE YOU?
It's our pleasure to continue my family's culinary traditions here in San Francisco.
We never never dreamed Papalote would grow into what it has become today – one of San Francisco's destination spots. For all of us, we welcome you! And we infuse the magic and comfort of home into every dish we serve.            
PAPALOTE MISSION
3409 24th St, San Francisco, CA 94110
(415) 970-881
PAPALOTE NOPA
1777 Fulton St., San Francisco, CA 94117
(415) 776-0106
E-MAIL US
info@papalotesalsa.com
Food truck
If you're looking for amazing burritos in the Financial District you're going to love the Papalote Truck! Ask for it HOT and we'll add Papalote Salsa inside. Our Homemade Roasted Tomato Salsa perfectly complements our burritos.
Free when you ask for HOT! Secret menu, y'all! Have lunch catered at your office! Follow our Instagram profile and our Facebook page to find out where the Papalote Truck will be and to receive special offers!
@papalotetruck
#papalotetruck